Contemporary tourists flow toward specific places as if attracted by magnetic fields. These places can be densely built-up cities with their monuments, expansive squares and nightlife, or landscapes with interesting natural phenomena. Temporary large-scale events such as cultural festivals add further attractions.
Although tourism provides a local economy with income, it is often unevenly distributed. Owners of hotels, restaurant chains and travel infrastructure gain the largest share, leaving workers with minimum wages and seasonal job insecurity. In addition, the cost of housing goes up because tourist apartments generate much more revenue, pushing the local population out of cities. Meanwhile, the noise, overcrowding and environmental pollution of tourism contributes to a growing socio-economic burden and conflicts that are increasingly being confronted in unconventional ways.
The inhabitants of Barcelona, in addition to resisting international platforms that infiltrate the local housing market, are more and more actively turning against tourism in general. Mallorca is considering restrictions on tourism, and in Athens entire neighborhoods with established communities are being depopulated in favor of wealthy visitors.
Tourism is thus becoming a phenomenon that, while producing economic growth, contributes little to the local population; on the contrary, even forcing it to leave.
pop-up Tourism is a concept that can actively contribute toward solving this problem.
pop-up Tourism consists of two building blocks:
1. Modular building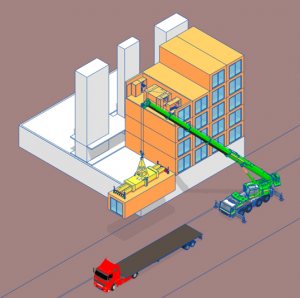 Individual apartments are manufactured as prefabricated modules out of lightweight, sustainable building materials. These modules can then be placed on simple foundations and stacked on top of one another. The dimensions of the modules can be varied in depth and width to adapt to different building plots, including the infilling of gaps in the urban fabric.
The dimensions of the modules permits them to be transported by truck and positioned by crane.
2. The interior
The interior rooms of these apartments can be enlarged or reduced by residents as needed on a daily basis, maximizing the efficient use of space in time. Sliding built-in furniture modules allow residents to create different spaces with the turn of a handle. Space is literally "relocated" to where it is needed at a given moment.

The interior furniture modules are standardized and similarly prefabricated from lightweight sustainable building materials, making it possible to assemble and deliver entire dwellings in record time.
project proposal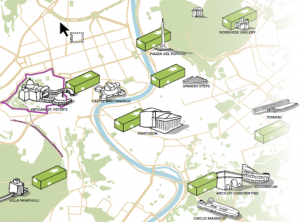 The prefabricated, compact and flexible living modules are first placed temporarely in attractive locations in a city or landscape to serve as privileged holiday apartments over a period of one year, creating a temporary network of tourist apartment locations.
At the same time, locations are identified in the city or region that qualify for permanent affordable housing construction. After being used by tourists for one year, the housing modules are relocated and permanently assembled into a residential building. The flexibility of the housing modules makes this transformation possible.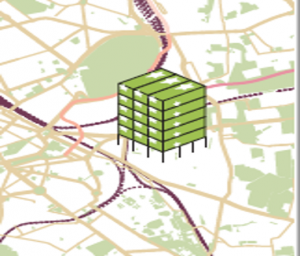 Tourism thereby finances the construction costs of affordable housing, thereby becoming a solution rather than a problem.
Using state-of-the-art technology, this contemporary, sustainable, high-quality building system sets a new 21st century living standard for both tourists and locals.
pop-up Tourism is the ideal solution for over-tourism because it uses it to finance affordable housing. It can be installed in cities with historical centers, nature areas; and also at temporary events such as festivals.
The images are from a proposal submitted to the city of Rome.
Angelo Roventa
Goldeggasse 16/9, A-1040 Wien
Hatlerstrasse 10, A-6850 Dornbirn
www.wald-wohn-werkraum.com
www.peterpaula.com
www.elasticliving.eu
roventa@aon.at